| | |
| --- | --- |
| | South African vocalist and musician, Storme, has just released her much-awaited debut album. |
The CD is now available on-line from these outlets. When you get to the store of your choice, enter "storme" in the search facility.
Kalahari.net - A direct link to Storme's CD
http://www.kalahari.net



Musica
http://www.musica.co.za



Look & Listen
http://www.lookandlisten.co.za



The Shopping Matrix
http://www.tsm.co.za



Get In Touch: storme@storme.co.za
Telephone: 012-664-3510

Storme - her real name - is signed to the Musketeer Record Label, with BMG Records coming on board as her distribution channel.
Now releasing her debut album of all original material - Storme explains. "After workshopping in Doug's studio, we decided we were ready to get out there and communicate our compositions to a broader market." Thousands of fans have heard Storme perform with her partner, Doug Campbell, in the hugely successful corporate/function band, HAVANA GAS.
A profound influence on her new album was Storme's introduction to acclaimed producer, Brian O'Shea of Watershed, Saron Gas (now known as Seether) and Semisane fame, to name but a few. O'Shea co-wrote a couple of the songs and several were produced at Farm Studios in Midrand.
Storme's self-titled album boasts a great cross-section of easy-on-the-ear, popular music, with catchy tunes and memorable lyrics. Listen up for her debut single, "Make Love Just To Me", on all major radio stations countrywide.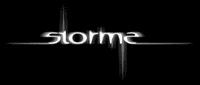 Call - In South Africa : 012-664-3510
International +27 12 664 3510
Fax: +27 12 664 3510
Mobile: 083 450 7441
Email:
storme@storme.co.za